First, here's my layout for Andrew's 6th birthday. I'm so proud of myself for getting it done so soon after his birthday (yet, I have about 20 layouts from earlier this year to do still :lol:)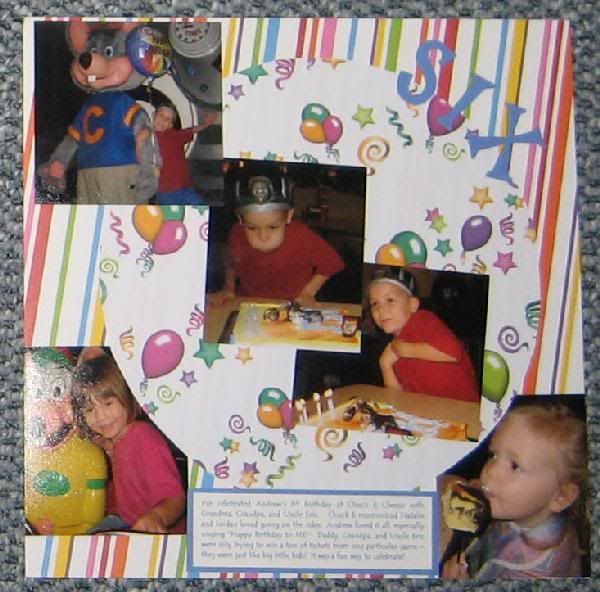 Journaling:
We celebrated Andrew's 6th birthday at Chuck E Cheese with Grandma, Grandpa, and Uncle Eric. Chuck E mesmerized Natalie and Jordan loved going on the rides. Andrew loved it all, especially singing "Happy Birthday to ME!" Daddy, Grandpa, and Uncle Eric were silly trying to win a ton of tickets from one particular game – they were just like big little kids! It was a fun way to celebrate!
But now I need help on the Back in Black layout. First, I can't get my stupid program to save any larger than 500x500 right now, need to figure out why. It's making me INSANE. I've crashed it more times than I can count.
Anyhow, I started cropping the pictures of Andrew into "explosion" type images (imagine a star but it has 10 points instead, like a big boom or something). But that looked really stupid, too stupid to even share here. So I went back and cropped into rectangles and framed it with the steel type frames. My first background was the polka dotted. But then I played with the other two backgrounds you see here. (All from Shabby Princess Urban Kiwi kit). I'm really at a loss - is the layout okay as it is? If so, which background paper does it look best on? I'm welcome to all suggestions for this one.