Hi all. I've missed ya. No energy to do the raindance to sign in lately.
My family is sick and unfortunately they're still sick. Husband is the worst with strep throat, severe broncitis and diabetes complications. Caleb and Katie have strep too. Katie woke up with a fever and a deep cough this morning despite being on antibiotics.
I'm run down and keep skirting being sick or not.
We're having snow/ice/slush/rain this weekend and it looks like a blizzard next week. Is it bad that's I'm hoping it starts icing/snowing hard enough to cancel church tomorrow and that the blizzard does come so we can get some rest?
I'll try to get a picture up of the card I was going to send in for the Easter Swap. (I have one done) It's all I've gotten done between these illnesses, my mom's botched surgery (and infection) and the extreme stress from the church (which is a LONG other story. Just pray for us).
Not trying to be a downer, but right now we're mostly just existing at my house.
Miss you all and I still try to lurk once a day even though I can't post. There has been some INCREDIBLE work posted lately. It gives me little windows of joy to see them.
ETA:
The Card that would have been in the swap if I had time to make 4 more :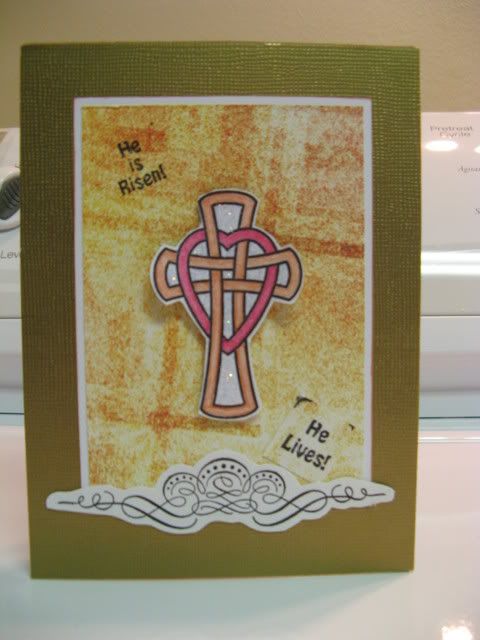 (none of the other stamped images have the black line. I trimmed the stamp after doing this one). Gold metallic paper. Inked a white paper with brown and mounted the yellow cross paper to it. Stamped the words on. Stamped, cut out, watercolor penciled and stickled the cross. Stamped and cut out the swirl. -And Tia you're right- metallic paper IS hard to photograph.
Bonus-
My daughter Anna made this at preschool. We did them to practice the first tie you need to know to tie your shoes (the one string under the other and pull technique). She wants to give it to grandma as a get well gift.