what do you think? I need to go back and add shadows. does her name look okay?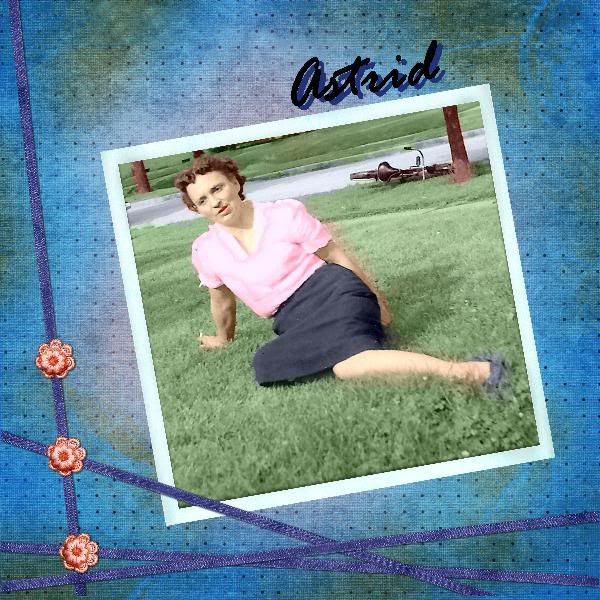 ----------------------------------------------------------
Remember the layout I did of my Grandma for my mom for a Christmas gift? Well, I want to do one for my dad too. His mom died when he was 13, and I have NO pictures of her. My mom sent me this one in the mail, so it's what I have to work with. I thought I might try something in color. I downloaded a program called Recolored (using the trial version) and it's really cool! It took me a while to get it to this point, and it's not perfect, but it's good enough for me. Anyhow, just wasn't sure if it's too cheesy to use the colored version or if I should stick with the b&w original. The picture Mom sent is a small one from 1955, not even 3x5 size. So I scanned it at a high DPI so I could work with my dad's mom (figured you need to know this so you know that she's really tiny in the original so she'll be a bit grainy in the end result). I actually cropped about 2/3 of the picture out because it was too hard to colorize all of the background stuff like trees, houses, and a car. I will apply a soft focus to her, either way I think.
Anyhow, I resized the pictures to share here, my digital copies are about 3 times the size.
Should I go with the color or b&w?
(sorry for the long text just to ask that question)
BTW, her name is Astrid so I will write that on the page like I wrote Lillian for my mom's page.