Sorry for not updating last night. We didn't get home till 10pmish and I was totally wiped out! The day was alright, we got off to a rough start - forgot a few things needed at home, got pulled over by a really (w)itchy cop who issued an unnecessary ticket that he's going to fight for various reasons.
So, we FINALLy got there - it's a 3 hour drive and thanks to small delays here and there, the (w)itchy cop who we think must not have gotten laid, or she was having a bad day or something :ROFL:. I filled out the form and in we went. First I'd like to say, that I have NOTHING against Chinese/foreign people, however we ended up with a Chinese woman, and I swear I was ready to strangle her or something.
She didn't speak english very well it seemed, we couldn't understand half of what she said. She wasn't very friendly or talkative - the one we had last year was very talkative, joked around and was an ENGLISH person.
So, the ultrasound started, and omg, it was a horrible experience :(. The video we were supposed to get, we only got 20 mins worth rather than the full half hour. At one point she paused recording because she wanted me to get up and do squats :eek: to see if the baby would move/change position. Hubby said he realized after the fact that she didn't resume recording, THEIR copy had 37 mins, while mine had 22 mins :(. Also, the disc of pics we got were almost all crappy pics :(. Last year we got 61 pics - ALL were clear and you could see what everything in the pics was without having to guess. Yesterday, we got 40 pics, and the majority of them were all blurry, who knows what they are pics :(. Rather than giving me the clear/good images, she was putting blurry crap on my disc of pics we get with the package. Then, at the end, we are allowed to pic 2 pics from all that's on the disc. Last year we had a really hard time trying to pic 2 we liked the best, so I picked one and told hubby to pick one. Yesterday, when I was trying to decide what I liked and what hubby liked, she was at one of the crappy, blurry 'profile' pics and was like "so, is this one ok to print or what?" UH EXCUSE ME!?!?! :eek:. It's not HER choice, it's MY choice, and it was sooooo freakin rude of her to ask if it was ok to print one that SHE liked. Hubby and I were considering going back, but after having that idiot woman, we're not so sure now. We only paid for the one visit, but if we do go back, we spend the same amount, but get a 20% discount since we didn't buy the big package which gives us 2 visits etc. I'm going to call tomorrow probably to complain and see what can be done. It definately wasn't a satisfactory visit and I did NOT get what I paid for, and that's something their sites claims to guarantee. All pics we get are supposed to be of the best quality, and I think less than half of mine were anything but the best :(.
So, who wants to see pics? Are ya tired of my complaining yet and wanna see and know what this bean is? Any guesses? Well, here's some pics to start.
First, here's the screwed up one. There's ALOT of pics that look like this. Baby was moving so they were blurry, but there was alot of other pics she could have put that were nice and clear. I also saw there were quite a few that were very similar, she almost seemed.... lazy.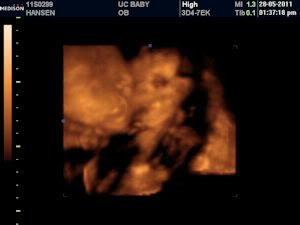 Next, this one makes me giggle, but then think, ewww how gross! The mouth was open and if you look closely, you can see the tongue! baby was hungry for a taste of.... placenta? LOL.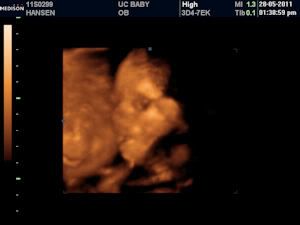 All snuggled up to mommy!

This one I like best. It looks sooo much like one of the pics I got with Hailey! Only difference was Hailey was a bit more turned towards rather than laying fully on the side like this one.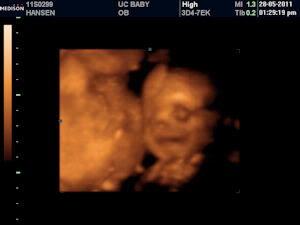 Hmmmm. There's another pic but I can't seem to find it. It's the money shot pic.
Oh well. I guess you guys don't get to know. Can't tell ya without it!
Oh... look.
.
.
.
.
.
.
.
.
I might have found it.
.
.
.
.
.
.
.
.
.
.
.
.
Nope, that's not it.
.
.
.
.
.
.
.
*keeps looking*
.
.
.
.
.
.
.
.
Oh yes, here it is! I found it. Boy, it was well hidden on my laptop!
.
.
.
.
I am on team.....
.
.
.
.
.
.
If you're friends with me on facebook please do NOT say ANYTHING because family do NOT know what I'm having, and they won't know till the day the munchkin is born. We did this with Hailey too. Found out and it was fun actually driving my MIL crazy, cause she couldn't stand to wait so long :ROFL:. yes, we're evil, but it's our choice, and she's gotta live with it!!
.
.
.
PINK!!!! IT"S A GIRL IT"S A GIRL!!!!!!!!!!!!!!!!!!!! I was sooo shocked, all I could say was "REALLY??" hahaha! I didn't say much though cause the tech was an idiot, with Hailey I was like "ARE YOU SUREEEEE?" And she gave me 3 different pics and views to make sure. I explained why I was in disbelief though and she totally understood haha. Girls in hubbys family just don't happen, and omg, we've had 3 in a row... well, SOON to be 3 in a row! It makes me feel better now, we have a place to put her - she can share a room with the 2 older girls.. bunk beds for them and the crib for her. The room is big enough for that. I don't have to stress on getting boy clothes, toys (exercauser etc), or even sheets hehe! That was one of my biggest worries when I found out and one of the reasons why I was so unsure as to what we were going to do and stuff, I figured we'd for sure have to move kwim.
Anyways, here's the money shot pic. It's not as good of one that we got with Hailey, but good enough to show there's no balls and penis :lol::

Sorry for making you wait so long, and having all those lines of dots. I did that on my last BB too, the one lady I made friends with said she was tired of my rambling and to get on with the results already ROFLMAO!. So, I'm thrilled even though we had a crappy experience.