Sorry I'm a little late with the announcement, but my beautiful Molly Nicole was born on 9/10/11.
~Short version of birth story~
It was a looooong week of prodromal labor that would not be stopped after being admitted twice to be pumped full of fluids and other meds. Contractions were coming every 2 minutes, yet no changes. This all started on Tuesday at 3am and did not let up at all. I was sent in for an amnio on Friday because my blood sugars started skyrocketing and Molly's heartrate started decelerating, so my OB thought it would just be best for everybody to get the baby out. I was admitted on Friday, induction started on Saturday. Labor was surprisingly long and uneventful until the OB ruptured my water 12 hours into it. I went from 5 to complete in less than an hour. I "labored down" for another 45 minutes-ish, and pushed for 7 minutes.
Molly Nicole
Born 9/10/11
7 lbs 5 oz
20 inches long
Apgars 9 & 9
Recovery has sucked for me. Afterpains like a biotch (to be expected with the 4th), and swelling like a mofo thanks to the 10+ bags of fluids pumped into me over 3 days. I'm still waiting for the swelling to go away. I had to go back to the OB yesterday to get checked for postpartum eclampsia because the swelling is so bad that my eyelids swelled majorly. Dude. My EYELIDS. Blech. And DH went back to work on Wednesday, so it's been fun trying to wrangle the other kids...I've popped a couple of stitches from not taking it easy enough. Other than a couple of mom recovery issues, things are awesome. Molly is nursing like a champ, the other littles just adore her, and everybody is just in love with the newest addition.
A couple of pictures~
All cleaned up

Getting in the carseat to come home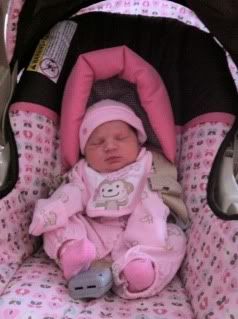 Finishing a feeding