So I'm finally back from my trip up North visiting family. I had a great time but it was hard to say goodbye to everyone knowing I won't see them again until after the baby is born.
Chris drove up there on Saturday afternoon. He made me open my birthday present early. He brought me flowers and my ipad. I was so excited. He even told me to keep the $300 I had in my ipad fund to use on accessories or whatever else I wanted.
On Sunday we had my sprinkle. It was so nice to see all of my family in one place...I never get around to seeing everyone when I visit. We got a lot of really great gifts and I was really surprised to get so many birthday gifts...I assumed we would just get some for the baby. We got a lot of money and gift cards so I will be able to get most of what's left that we still need to buy. I got the pnp as a gift so today I went and bought the car seat. I had a change of heart about the travel system...I think the stroller is too big so I decided to buy a separate stroller, but I'm still deciding on which one. We don't need it right away so I can take my time.
This morning I had my 31/32 week growth scan. It went went well, and he's in position, so the tech couldn't get any fun pics. He was practicing breathing and has hair (which isn't surprising considering Brandon had a full head of hair at 34 weeks). The only worrisome thing is his size which is now estimated at 4lbs. 10oz. My last growth scan was on July 1 and he measured 2lbs. 5 oz. so that's a big jump. I know measurements can be off but they have pretty good machines so I guess we'll see. This was supposed to be my last one but I have to go back at 37 weeks to make sure he's not getting too big. Brandon was 5lbs. 14oz. when he was born at 34 weeks so it sounds like this one will be about the same size. I'm not surprised to hear how big he is though. My belly is hard as a rock and it feels like he's quickly running out of room in there...I always have a body part or two sticking out of my belly.
Here's some pics from our camera. My little cousin took most of the pictures and she's going to email them to me so I'm sure she has some cute ones.
We got a jumpy house for the kids, but I think the grown-ups liked it more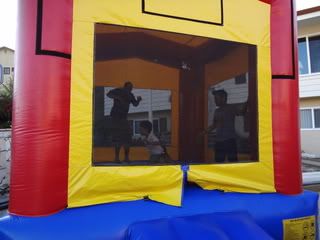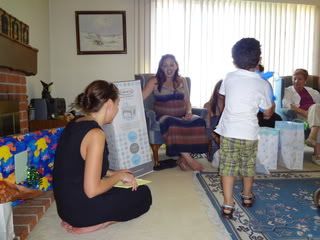 My little guy made a girlfriend.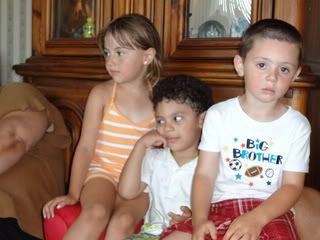 My only request was the fruit tart on the right. They put two cookies on it, one for the baby and one for me. The cake was really good too.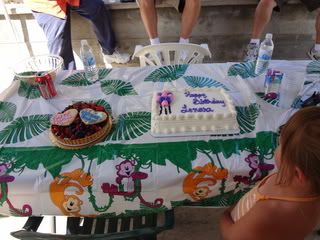 Me and my sisters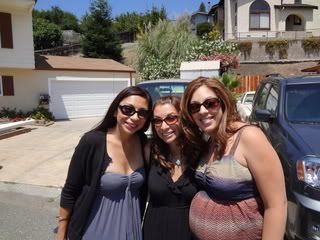 Here's a couple from our trip to Solvang:
This is a famous shoe that people take pics in front of: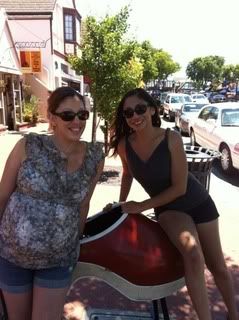 Here's a new belly pic too. I don't know how much lower I can get.