On Monday September 12, my DF got up to go to work at 5am. After he left, I got up and had a bowl of frosted shredded wheat and a glass of OJ. As soon as I finished eating, I started getting twinges of pain and I noticed I was bleeding a tiny bit. I timed the contractions, but they were very inconsistent. I called my DF just to give him a heads up that I was having contractions. My DF works in Atlantic City, NJ as a firefighter and we live about an hour North West of there. I then called my mom and let her know as well. She suggested I call the hospital to see what I should do. I called the hospital, and they told me to come in once my contractions became every 5 minutes.
A few hours later, Brayden (DS), my mom, stepdad and I all went to Walmart to get a few things that I needed for my hospital bag that I had not yet gotten. Walking around seemed to stop my contractions completely. This was fine with me, because I wanted Mike (DF) to be able to get home to take me to the hospital. After, we were finished at Walmart, my mom took me home, and Brayden and I had lunch. My mom stopped back over to drop off some grapes she had gotten from the fruit stand. It was around this time that I noticed my contractions were starting up again, and they were a little bit stronger. I kept timing them, but again they were still very inconsistent. My mom and DF urged me to call my Dr. just to see if they could check me out since the contractions were a little stronger. I called the Drs office, and they told me that since my contractions were not consistent, that there probably was a need to go to the hospital. However, but since I was bleeding she suggested I be checked out...just in case. So, my mom came over and picked Brayden and i up and headed over to the hospital (which is 3 streets away). By this time, it was about 1pm. The Dr. checked me and said I was about 3cm. She kinda pushed me to go home since again my contractions were not consistent. I really didn't want to go home, but since she was pushing me, I decided to just go home. BIG MISTAKE!!!!!!!
By the time i got home, it was about 2:30. Brayden wanted to play a game so I took out Memory for us to play. While we were playing I noticed my contractions were getting REALLY STRONG!!!! Brayden decided he just wanted to play with the cards, and i went over to the couch and was doing some work for my job on the computer. The contractions got so strong that I was gripping onto the couch as each one passed by. I started timing them, and noticed they were like 3 minutes apart. I called Mike, and told him how I thought this was the longest day ever. I told him how my contractions were getting really strong that I wanted to punch somebody. He said, after he got home we would go to the hospital again. I told him I felt stupid because I had just left the hospital, and I didn't want them to think I was one of those crazy patients. He said, No we would just go if I was in that much pain. I hung up with him, and then texted my mom. I asked her to come over and stay with me until Mike was able to come home. She said okay. About a minute later, the contractions felt EXTREMELY BAD and I felt all this pressure starting to build up. I moved on the couch, and then my WATER BROKE!!!!
I called Mike to tell him to leave work right away (remember he works an hr away) and then texted my mom that my water broke. I had to change my pants 3 times bc every time I moved my pants would get soaked. By the 3rd change of clothes I decided to put a dish towel in my pants to hold me over to the hospital. My mom came over, but never realized that I texted her that my water had broken. She just knew I was in a lot of pain. She helped me get all my stuff into her car, and then Brayden, my mom, stepdad and I all headed to the hospital. By the time I got to the hospital, i was having a hard time walking. A women came to take me to labor and delivery. Since the nurse was down in emergency dropping something off, she didn't have a wheel chair. I walked all the way up to the 4th floor, which as extremely difficult. The nurse took me right to a room, gave me a gown and then LEFT ME THERE!!!!! I put the gown on and sat in the middle of the bed since there was a pad on the bed. Water was still pouring out of me, and I was completely SOAKED!!!!! The nurse briefly came back in and I asked her to tell my mom to go and get my stuff. My contractions were soooooo BAD!!! I sat by myself for about a half hour. My mom finally got back to the room with my stuff, and she saw that I was in really bad pain. I really thought that I was gonna have the baby before Mike would get there. a couple nurses came in to ask me some questions and saw how SOAKED I was. The one nurse started yelling since no one was taking care of me like they should have been. They changed my gown, sheets and pad while I was laying on the bed bc everything was so wet. The Dr. finally came in to check me, and she said I was a 5-6. (2hrs prior I was a 3). Mike arrived about 40 minutes after I got to the hospital (5:30). He said, he did 90 all the way home. By this point, I was gripping onto the bed, waving one of those throw up bowls at him, ripped his hospital tag off, and was just about crying because the pain was so bad. They still had not hooked up up to any IV's and all I wanted was my epidural. Around 6pm, the nurse checked me again, and now I was an 8. Again, I was still not hooked up to any IV's, and Mike asked when I could have the epidural. She said, she was not sure if I was gonna make it to get the epidural. I begged her, and I was like please try and make it. She hooked me up to the IV since I needed to get a full bag of fluid before they would give me one.
I FINALLY got my epidural about 6:30-7:00. The anasteseologist (sp) really ticked me off, bc I was in agonizing pain by this point. I though i did a good job of not moving while he was doing his job. However, I was practically crying bc the pain was so bad. He yelled at me and said, "we were all ADULTS in there." If I had not been in pain, I would have probably knocked him out. However, I became in a better mood once the pain meds kicked in.
By 8:30, I was a t 10 cm, and the nurse started to have me push. Every push I did, Jacksons heart rate would drop and the nurse would have me turn on my side. At the same time that I was pushing, there was an emergency in the room next to mine. The nurse had me stop pushing: 1 - because Jacksons heart rate kept dropping and she wanted to see if he would come down on his own, and 2 - bc the Dr was going in to the an emergency c-section. All we knew about the room next to mine is the babys heart rate kept dropping too, but that baby's heart rate was not coming back up like Jacksons was. The Dr. took the other women in for her emergency c-section, and by the time everything calmed down it was 12:15am. They had me start pushing at 12:30. I had a little bit of a hard time pushing Jackson out. (It was the same way with my older son Brayden, I pushed for 5hrs with him) We ended up doing the same trick that helped me deliver my older son. We had the nurse snake off a sheet, and then fold it in half. I took the end where it was folded, and Mike took the 2 loose ends. Every contraction Mike and I both pulled on the sheet while I Pushed. This helped move jackson down farther, but I still couldn't get him under my pubic bone. I then had the nurse stop the epidural so that I could feel where to push. Then the nurse wanted me to try pushing while lying flat on my back. This worked!!!
Jackson Ryder was born at 1:36am on September 13, 2011
He was 8lbs 15 oz and 21 inches long. He has been an awesome baby, and we couldn't be anymore happier!!! Especially Big Brother Brayden!!! Brayden tells everyone he sees that Jackson is his little brother!!!!!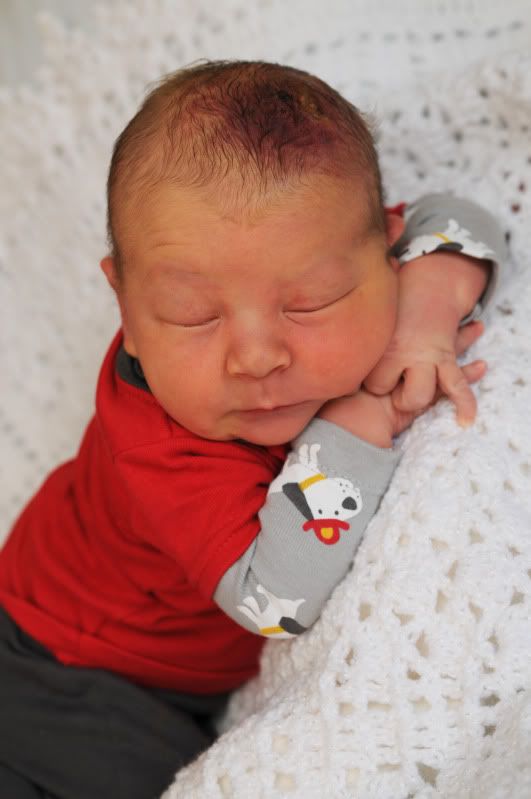 Big Brother Brayden and Jackson