So DH is hanging out with his friends tonight, our boys are having a sleepover at their friends house, and I was supposed to go out to celebrate my friends bday, but i canceled because I would probably be a party pooper, since I can't drink and can barely walk far and I def. dont have any cute maternity clubbing clothes! LOL
SO, that leaves me to wander aimlessly around the house and sit on here all night! LOL jk, I am probably going to do some nesting, if I can build up the energy.
anyways, here is my 32 week pic, and my boys jumped in the pic and I said ok! and it turned out cute, they gave the camera such sweet smiles.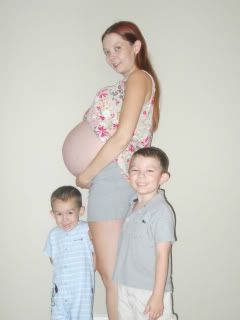 So today I toured the hospital I am going to deliver this time, last 2 times was at a different hospital. It was really nice. The birthing rooms are very large and some of them have big tubs, they said the women who don't want an epidural can request those rooms. I PLAN on NOT having epidural, but last 2 times I had an epi so I am HOPING I can do this, without freaking out at the last minute..
have any of you freaked out at the last minute from the pain and got an epi when you werent planning on it?
also, I obviously never had a water birth before but this time if I am able to get a room with the tub I would love to try a water birth.
for those who have had a water birth before, what do you wear in the tub? naked? bathing suit top? does DH get in? should I pack his swimming trunks too? lol. do you still have to have an IV in, if you are planning on natural birth?
DH makes fun of me because he's like "why didnt you just ask those questions at the tour?" and I said because I feel stupid! LOL I should have asked the tour guide but I didn't, but hey-that's what I have you ladies for, right?! lol