We closed on our new house on Friday and we have to be moved out of our current apartment by the end of the month. We went last night and bought the paint for DD1 and DD2 rooms. They are so excited to be getting the purple rooms that they have been begging for for months! I also looked online with them last night and let them pick out their new bedding.
DD1 picked out: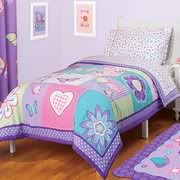 DD2 picked out:
We have to paint thier bedrooms and refinish the wood floors in all three of the main floor bedrooms before we can move in. I am really disappointed that I can't help as much as I want to.
I am also not going to be much help on moving day with all of the heavy lifting that will be going on.
Despite not being able to be as involved in the redecorating process as I would like, we are very excited to finally have our own place and be out of apartments! This will be the first time our girls have ever lived in a house. I can't wait until I can open the door and have them go out in our own yard to play!!