.
.
.
.
.
.
.
.
.
.
.
Sweet baby BOY!!!!! I was convinced this baby was a girl the past few days. Anyways, 2 girls, 2 boys!!! Yay!! He was so relaxed the whole ultrasound which matches up with how I've felt because he's not much of a kicker, that's okay I think I'm ready for a more relaxed child
It was neat to see him and we even got a peak in 3D but no pictures of that. I'll upload pictures after we announce to the family tonight.
Edited- (pictures might be big, I don't have time to resize right now)
Back! The kids were so excited all day to eat the cupcakes! They were happy, my younger daughter really wanted a girl but she says she's happy she's getting another brother. DD1 was 'right' and so she's pretty excited about that
Of course DS is completely oblivious to everything except the fact that he got to eat a cupcake.
Pictures! Here is baby boy's profile
I think he's already got some hair! It was hard to tell but dh said he thought he saw it when we got to see the 3D too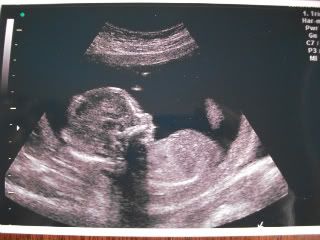 Boy shot, no doubts! The potty shot showed up right when the tech put the wand on my belly
but I couldn't tell at first and he moved it away pretty quick to look at his face and such but as he was trying to look at the face baby must have flipped and gave us another potty shot and I said 'is that a boy?!' and the tech laughed and said "you're good at this"
He had the hiccups during the ultrasound but otherwise wasn't too active, at least compared to how my other kids were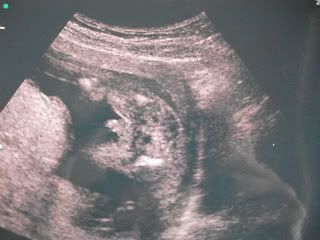 I thought this ultrasound would make me less anxious for my anatomy scan but I can't wait to see him again
It'll be nice to know he's for sure healthy since the elective places can't really tell you any of that.
Anyways, cupcake pictures