the dress/outfit that i made my sister for her baby due in may.
I think it turned out really good, but I didnt' get good pictures of it--I'm sad about that! Its about a 3-6 month size. I tried it on weston--dh was not thrilled with that--and it fit, but a little snug. I just adapted a pattern I had already for girls dresses 3-6 years size.
Dress front view
Dress back view: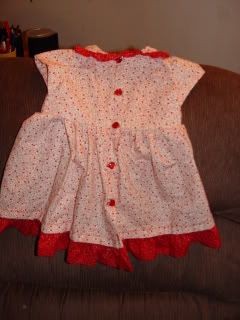 Shoes (blurry
)
Whole outfit, dress, diaper cover/bloomers whatever its called, shoes and headband:
Next project, dd's easter dress!