I finally got my sewing machine working again. I had a simple project I had wanted to do but then it went on strike but its back and I got them done. I had gotten an Ergobaby carrier, for #2 and had seen the sucking pads on their site, but didn't want to pay what they want for such boring things, then I found a tutorial and it was so easy!
This is the first set I made: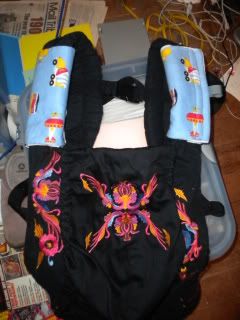 because we aren't finding out what we are having I figured I should make 3 sets, boy, girl and neutral that I can use when the other set is being washed, here they all are: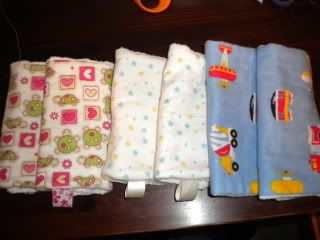 They are terry cloth on the inside and flannel out, velcro closure and a ribbon to hook a toy to. I have never sewn terry cloth before, what a mess that makes! I actually ended up buying a nice fluffy towel from a discount store, that cost hardly anything. The fabric stores just had awful terry cloth that is so expensive, I like this better.
Now I am trying to decide what to tackle next...