I just started knitting in January. I've tried various times before, but never got passed the knit stitch. This time I was determined to make it.
I took classes at my LYS. The first one was 2 needle mittens. I made a pair for me, and a pair for my 2 year old. I'll post a picture sometime.
The second project was a sweater for a friend of mine. Her baby was born just this last Monday (3/26). It's a top down sweater. It really was like knitting the two needle mittens, but with two thumbs (the sleeves). It took one skein of yarn, so it was inexpensive. My friend was so happy to receive it, as she had a family friend that just passed that knit her son a sweater and she was sad her daughter wouldn't get a hand-knit sweater.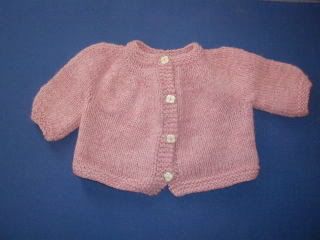 The third project is a cable hat, for DH. Picture to follow.
Fourth project is a sweater (class again a LYS). It's a bottom up sweater in the round. I'm almost to the armpits. It's taking alot of time. The patter can be found at http://www.masondixonknitting.com It's called the "Perfect Sweater". The pattern is free. I did the picot hem in contrasting color. It's nice. I hope I finish it in time to still wear it this year!
The fifth project is the Booga Bag knit along. I just felted it tonight. I like how it turned out. It's smaller than I thought it would be.
Prefelted

Felted, still drying
Janel