4/14/07
I'm almost to the start of the waist shaping now (row 76, here). I still like it.
4/9/07
New Sweater Progress... Thought I'd start at the top for this one.
Here's the pattern (for purchase) on Zephyr Style:
http://www.zephyrstyle.com/catalog/item/2367447/3289215.htm
Here is my progress:


I'm on Line 22 of the pattern. I started on Friday evening and have already ripped back to the beginning (almost) twice. I need to not be distracted when I knit this.
A close up of the lace panel:


This is just over two repeats of the lace pattern.
********************************************
"Blaze"
Scroll to the bottom of this first post for update...
I'm up to my armpits in it
...in the sweater I'm making. It's Blaze from Knitty.com. I've mentioned it in other threads but here's a link to the pattern in knitty:
http://knitty.com/ISSUEfall04/PATTblaze.html
And, here's the color I'm doing mine in because I don't look as good in orange (#522 lilac-plum):
http://www.cascadeyarns.com/cascade-indulgence.asp
I'm surprising not bored by it. Although I'm afraid my son will start carrying 1 double-pointed needle sideways across his lips because that's how I hold the extra needle (my version of a cable needle) on the left-slanting part of the zig-zag.
I'll try to post a progress picture soon.
And, Nicole, maybe I'll bring out the crocheted baby blanket and post a picture of my progress on that one too.
1-28-07
Pictures of my progress which is moving quite slowly lately.
This is a closeup of the zig-zag pattern (sorry it's so huge):

This is a shot of my progress: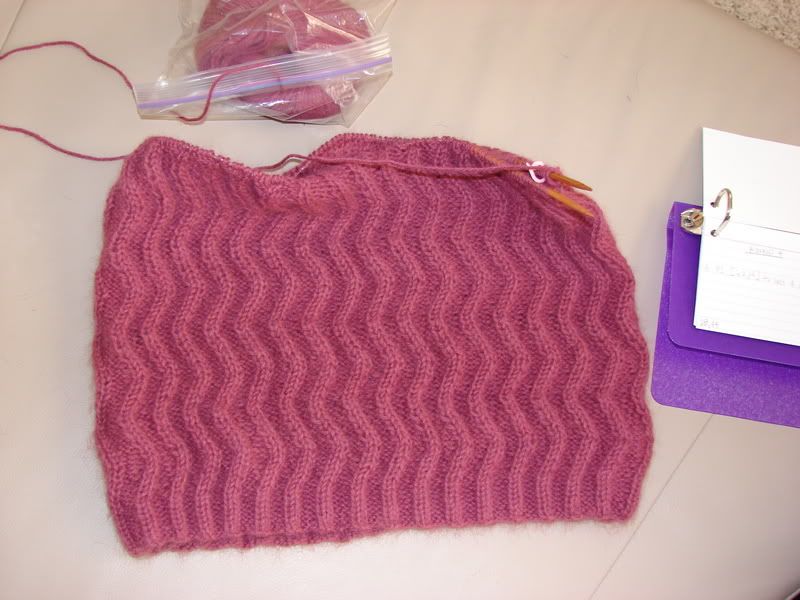 3/6/07
I'm done with the body up to where I'm adding on the sleeves. I have one of the sleeves done and have just started on the second sleeve. They're 3/4 sleeves so they go pretty quickly. I took a week off from knitting and now I'm ready to get the whole sweater on one set of needles and finish it. My goal is to have it done before the end of March so that maybe I can wear it before winter is over.
What's Next?
My next project is Rusted Root. Here's a link to the pattern. It's from Zephyr. http://www.zephyrstyle.com/catalog/item/2367447/3289215.htm