I think most of you have seen these from FB, but for those of you who have not *coughJulieCough* I wanted to post them here too.
We put 3 balloons into her room while she was sleeping, and tapped her in her room with streamers across her door for her to break through in the morning. She LOVED the balloons and crawled under the streamers. lol!

My plan was to do the party outside and I had fun games arranged for the kids, it was sunny and 70's to 80's all week. Buuuttt, of course the day of the party is snowed! So we all crammed into my basement and I couldn't do some of our activities. Oh well. Ava still loved every second of it. Birthdays are her favorite thing- her own birthday was all that more exciting for her.
Here is her costume. I may be a little bias, but I think she was freaking adorable!
Here are DH, Drew and me. Andrew hated his costume. H.A.T.E.D it! I'm a mean Mom and made him wear it for at least a little bit anyways. it's from last year and it was really pricy so I'm squeezing all the usage out of it I can. Hopefully ToTing warms him up on it the next time he wears it.

These are the goodie bags I made for the little ones. I made them large to double as trick or treat bags and they were filled with Halloween socks, glow sticks, necklaces and bracelets, Halloween temp. tattoos, chocolate bar wrapped like Mummy's and Ghost suckers.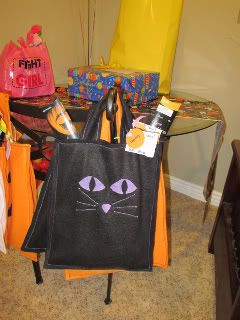 the girls also got these pumpkin hairbows.

The banner that Ashley made (thanks again, Ash!
)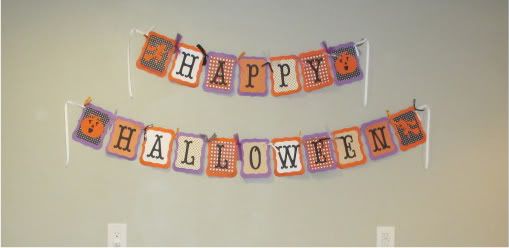 My favorite part was how she beamed when everyone sang to her. It made me teary! Here is the video and a link incase embedding doesn't work http://youtu.be/h0Aqo59JcFQ
If anyone who is not on FB wants to see more, just PM me and I'll send you a link. I'm too lazy to resize them all to put over here.