Miles said he wanted to be Thomas the Train for Halloween. So I bought him a Thomas costume. The costume came in the mail, I put it on, and he wanted nothing to do with it.
He said he wanted to be a "Scarycrow." I looked around for Scarecrow costumes, and checked eBay. There was one on eBay similar to this but the bidding was started at $14.99 and I decided I could make that...an effort to save money, you know!
I used a pair of his outgrown overalls, and an outgrown plaid shirt, had enough orange felt on hand (barely!) to add the fringe to look like hay, but it won't bug him since it's felt. The fringe added just enough length to the overalls and shirt to make them fit again!
I sewed on some fake leaves I had from my fall decorating stuff, had the twine, used some scrap fabric I had on hand, and had the "hay" left over from his farm-themed birthday party last year. I sewed that into the pockets so it won't be falling out making a mess all over.
The only thing I had to buy was the straw hat, which was $2.99 but I had a 40% coupon for it so it was $1.80! Talk about saving money!
...Most importantly, Miles loves it!! I don't think I'll be able to wash it because of the hay, but I think I'll use it in future years to make a little scarecrow out in the yard.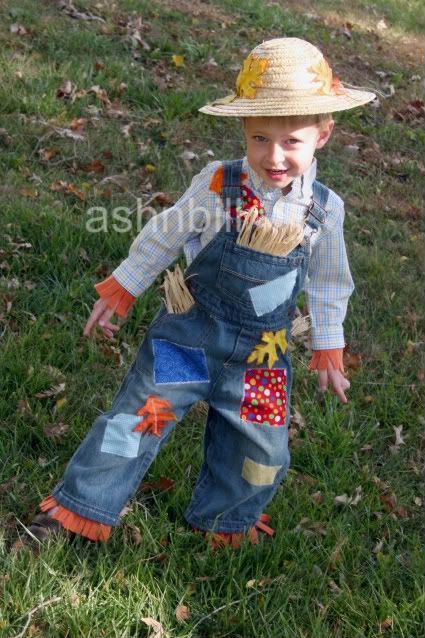 and the back...