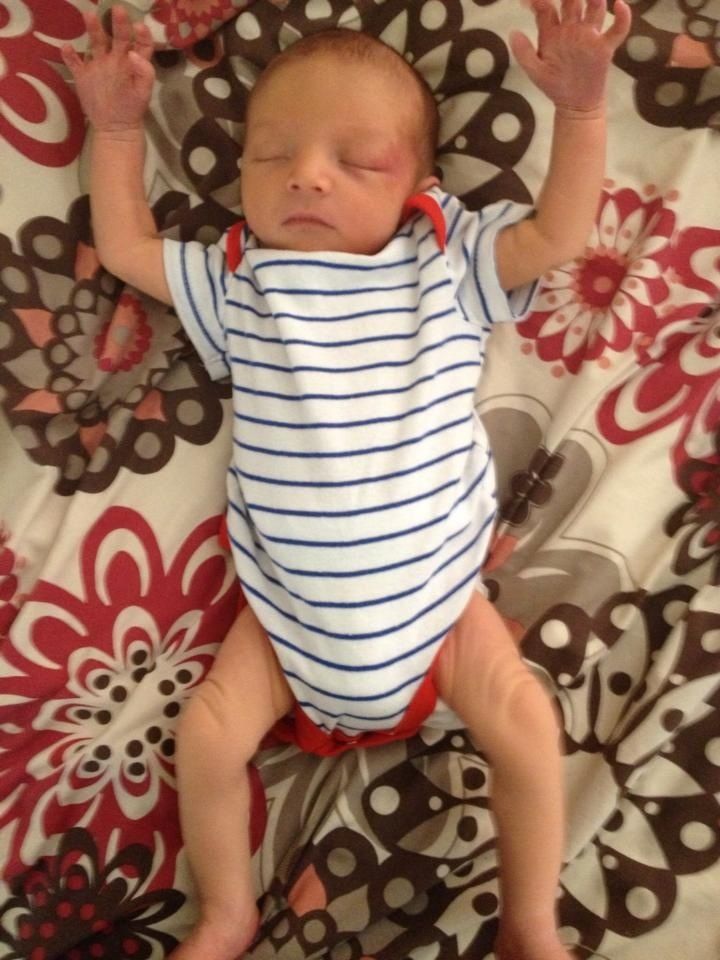 Come give me a cuddle ladies!!!!!
So here is my delicious son... Who is lying on my chest as I lie in bed and start a gushing dialogue about how perfect he is!!
Lol
He can look grumpy... But truly he's not... Unless hungry!!!
So I went in for my elective c surgery on Tuesday the 30th.
Was quite scared!!
Strangely it was the thought of injections in my back that freaked me more than anything!!!
But it was fjne.
I rambled nervously on to all that would listen.. M gold me to shut up and he got well and truly told.. I mean I am lying on a operating table with people's hands inside me... Numb from boobs down.. And drugged.. I am going to talk balls aren't I?? Lol!!
Such a weird feeling was in the legs!!
Was almost like restless leg syndrome... Was very happy when that wore off!!!!
After 5 mins or so Edward popped up over the screen with a huge belting cry and we cried... Well.. Dry cried I could get no tears.. But I was sobbing!!
He was passed to me then m took him off to be weighed 6 lb 5... A diddy boy afte r all that!!
But he has legs so long it's funny... Like a baby deer!!
And nhuge hands and feet!!!!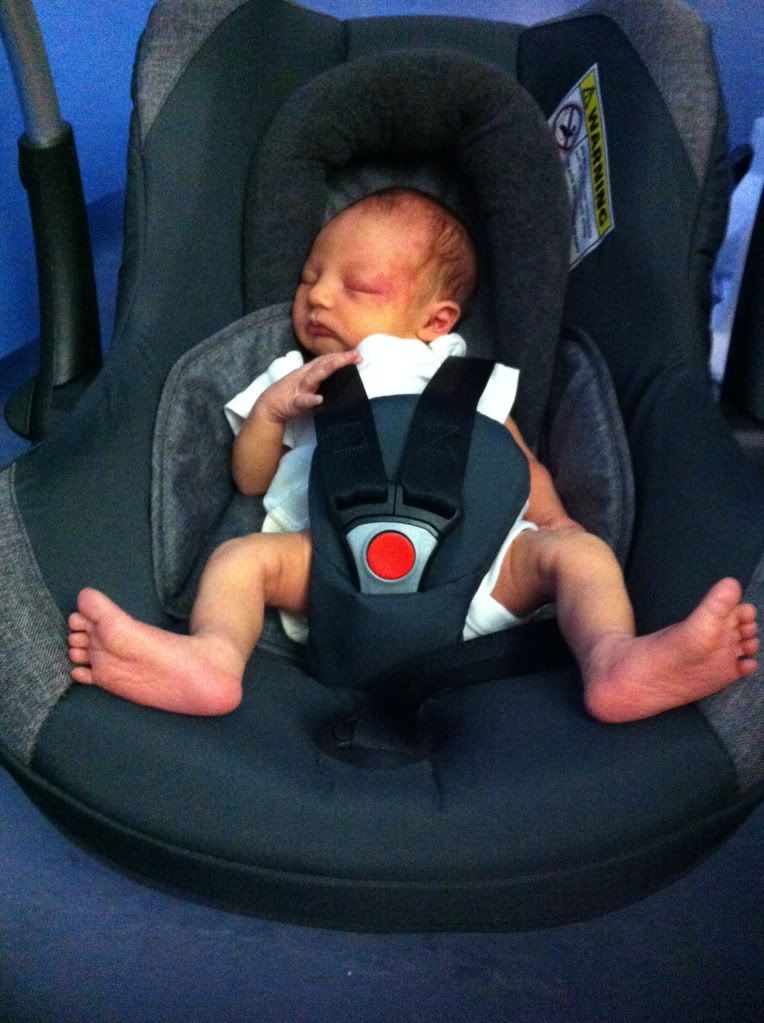 I was stitched up and off to recovery we went.
They were nice there and let mil come in with us.
The nurses helped me get Ed to latch on and showed me massage etc and he seemed have got his first dinner!!!
Finally we went off to the ward... Got set up.. Had my toast and tea and some paracetamels... Funnily I was told I was only allowed 1 and a half!!!!!!! Seriously!!!
Was a fight for painkillers because they messed up!!
But I did after crying hard the next morning due to excruciating pain get people to listen!!
So his bloods were checked before I fed him. All perfect!! No worries on th
E sugars for him!!!
Yay!!!!
He would grizzle momentarily when they did a heel test but was so fleeting!!!
Even when the did a bigger blood test for full blood count to check on the port wine birth mark he has (as he get older will tell him how he rescued mummy and daddy from an evil dragon And that is how his eye has the beautiful mark on it)
He only grizzled while it was being done.
The nights at the hospital were so hot!!!
I had fussy mums and babies around me!! Non stop crying and running commentaries from mums freaking!!!
I woke up at 2 my first morning to screaming everywhere and ed... Lying asleep with his hands over his ear!!!!!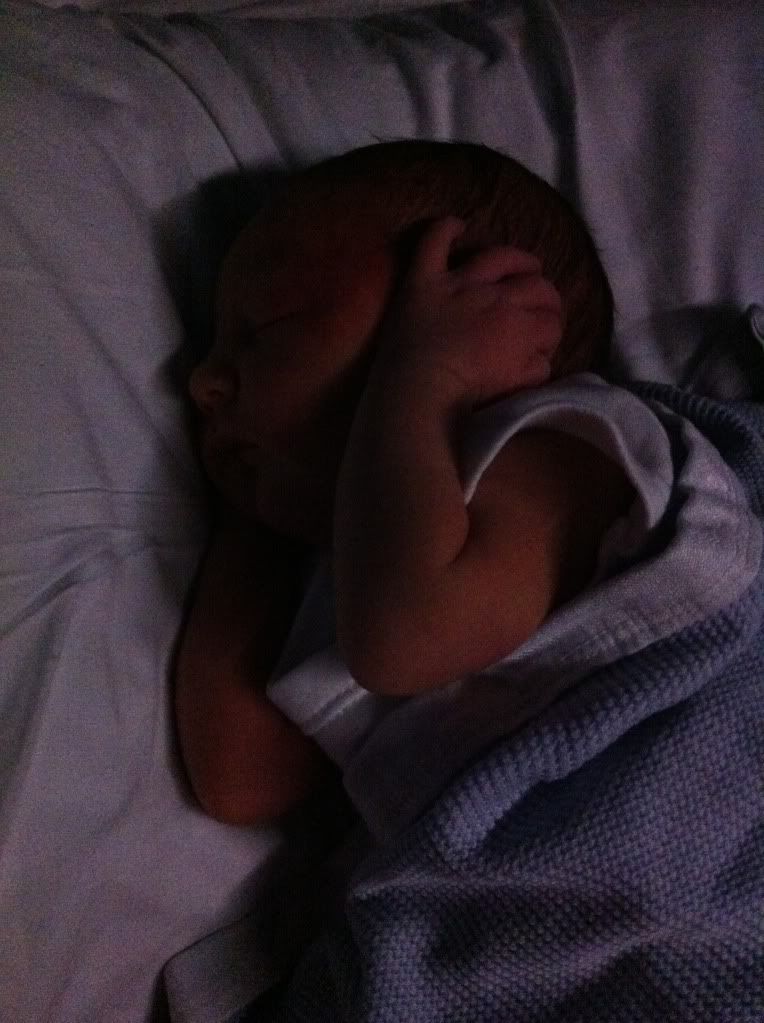 He is so good at night!!
First night home he fussed a bit.. But nothing like the other little ones I had seen.
Breast feeding stopped for a while as I didn't continue to the help I needed. He wasn't getting enough if any at one point.
Fantastically when the midwife visited me yesterday she helped me and has encouraged me back on it.
She said that this morning my breasts will be like rocks because my milk should come in and she will come again this afternoon to help get him latched etch.
I just need to massage and express to prepare my breasts.
And my boobs are like rocks today!!
Nipples are killing from the practicing yesterday too!!
I really want to do this so hopefully I can see through the pain!!!
The midwife has said it can be a huge hard journey.. But if I am serious she is willing to invest the time!!!!
Plus I have a friend who is a specialist on the breast feeding side who will help!!
So on the whole everything was perfect!!
After in some bits were pretty slack!
But in others it was great.. And my little boy is just the sweetest , good natured little thing ever.
Daddy us crazy about him and.. Daddy has been amazing!!!
Doing everything around the house... Looking after me.
Doing nappies.. Feeds... Everything I thought he would moan about!!!!
He does tell me who to do things though and that annoys me lol!!!!
Any way!!
That's my story!!!
I am so so happy!!!
Xxxxxxx